Sectional Title Survival Manual
By the Newsletter team
The Sectional Title Survival Manual is a very popular legal reference book for the general public in South Africa. It covers everything a managing agent, owner or tenant needs to know about managing and living in a sectional title scheme. The manual is written by Prof Graham Paddock, a specialist sectional title lawyer and lead government consultant on related matters, including the drafting of the brand new Sectional Titles Scheme Management and Community Scheme Ombud Acts. He is also the founder of Paddocks, a specialist sectional title training firm.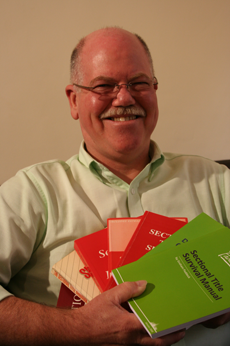 The
Sectional Title Survival Manual
is now in its
sixth edition
, has been translated into Afrikaans, and is a standard reference book at managing agencies and property firms around the country. But how did it come about?
Graham's first instruction book was the Sectional Title Handbook published in 1983 and based on the Sectional Titles Act 66 of 1971. Graham first got the idea for the manual in the late 1970s, when he became involved in sectional title developments and discovered that very few ordinary South Africans had any knowledge of sectional title legislation. He specialised in the field and found that there was a desperate need for a clear, understandable guide to the law for sectional title owners, trustees and managing agents.
The manual initially sold well and has continued its steady sales till this day. It was also a catalyst for Graham's other projects, Graham Paddock and Associates, a specialist sectional title law firm and Paddocks – the sectional title training firm. From these came the UCT (Law@Work) Sectional Title Scheme Management course, which it turn led to more courses and the founding of Paddocks' sister education company, GetSmarter.
The University of Cape Town (Law@Work) Sectional Title Scheme Management course was launched online in 2005 and is now the benchmark training program in the sectional title management industry. And out of the course has grown Graham's latest initiative, Paddocks Club, a burgeoning sectional title and scheme management community.
Graham's books have had a substantial impact on the sectional title landscape, educating managing agents, trustees and owners and making scheme management information accessible and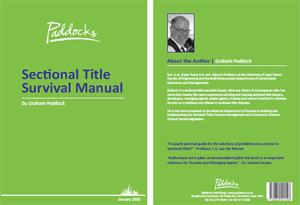 available in plain language. This impact continues today – over 2,100 copies of the sixth edition have been sold.
It has also received widespread praise from all types of readers. "I can really recommend this practical guide to all owners, trustees and managing agents involved in sectional title units. It is easy to use and understand and a great help in solving upcoming problems," says Reggie du Plessis, a managing agent from Cape Town. Professor CG van der Merwe, who translated the manual into Afrikaans, calls it, "A superb practical guide for the solutions of problems encountered in sectional titles." Dr Gerhard Jooste, the chairperson of the National Association of Managing Agents, considers it "an important reference for trustees and managing agents."
Article reference: Paddocks Press: Volume 6, Issue 12, Page 4
For more information on the contents of the
Sectional Title Survival Manual
, or to order your own copy please contact Emma on 021 686 3950 or email
emma@paddocks.co.za
This article is published under the Creative Commons Attribution license.