By The Paddocks Club Team
Below is an example of a question on the discussion forum on Paddocks Club. We want to show what is available to our Community Members!

Stuck in an overloaded lift: Who pays for the rescue?
Member question:
In the event of flat occupants being stuck in a lift because they overloaded it with goods and the lift company had to be called out to remove them from the lift, can the bill for the "rescue" be passed on to the unit in question? Or must the body corporate pay for the rescue even though the lift company's report on the incident records that the lift was overloaded?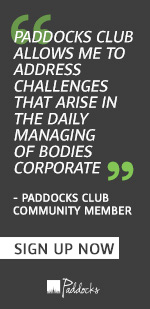 Graham's answer:
The body corporate is responsible for the maintenance and repair of the common property, but if it can be conclusively shown that damage to common property resulted from misuse, then the body corporate can claim the reasonable cost of the repair from the person that caused the damage. The same principle applies to the "rescue".
Exclusive Use Areas: Parking
Member question:
Does an Exclusive Use Area (EUA) parking bay automatically pass to the new owner of a section?
Anton's answer:
There are two possibilities.
If the exclusive use rights are registered rights, that is, rights created in terms of section 27 of the Act, they are ceded to the new owner of the section by bilateral notarial deed during the process of transfer of ownership. It would be possible for the cession not to take place, in which case the rights would vest in the body corporate. It would require several mistakes on the part of various people, including the conveyancer, the estate agent, and the seller, for that to happen.
The second possibility is that the rights are created and allocated by a scheme rule, in terms of section 27A. In this case, the wording of the rule is important. The rule should provide for the rights to be allocated to the "owner from time to time" of the specific section. There would then be no process for passing the rights to the new owner, it would then be truly automatic. If the rule granted the rights to a named owner, which is very rare these days, the rule would have to be changed in order to allocate the rights to the new owner.
Article reference: Paddocks Press: Volume 8, Issue 8, Page 5
Adjunct Professor Graham Paddock, Jennifer Paddock and Anton Kelly
are available to answer questions on the discussion forum for
Community Members of Paddocks Club
. Get all your questions answered by joining Paddocks Club at
www.PaddocksClub.co.za
.

This article is published under the Creative Commons Attribution license.