By the Newsletter Team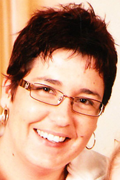 Tracey du Plessis, a portfolio manager at
Constantia Sectional Title Management
and veteran Paddocks student, came upon her sectional title career by chance – and after 18 months, she's loving it. Tracy took some time out to share a bit about herself.

Starting out
Tracey had anything but a linear career path. She au paired and studied small business management in Detroit, did a diploma course in marketing management in South Africa, worked as a nanny in London and returned to South Africa in 2005 to start a nutritional supplement company and settle down with her family. She got involved in the property industry by chance. "When we moved into our new sectional title unit, I ended up sorting out all the teething problems we were experiencing and dealing with the issues we had with the developer. Our portfolio manager, who saw how much I was enjoying it, suggested I go for an interview at CSTM."
Working in property
Tracey loves the excitement and variation of her job as a portfolio manager. "I love the fact that no two days are the same; even though it is a very challenging job, it can be rewarding when the issues are all sorted out. The cherry on top is that I have always enjoyed working with people and being a problem solver." Her colleagues form a tight-knit group and they often have training courses, which keep her stimulated and informed. When she has some time off, Tracey loves to do some scrapbooking to wind down after a hectic week and let a bit of her creativity out.
Paddocks experiences
Tracey has taken three Paddocks courses so far – University of Cape Town (Law@Work) Sectional Title Scheme Management, Home Owners' Association Management and Law of Sectional Title Meetings – and has enjoyed them all. Her favourite course was University of Cape Town (Law@Work) Sectional Title Scheme Management: "I deal with it every day and it gives me answers to many tricky questions I have had to deal with, and it makes me feel very confident when dealing with complexes." She also loves Paddocks' Sectional Titles Online website. "It has been my saving grace many a time as it is so easy to use and packed with interesting information. I also encourage my trustees to sign up and educate themselves on sectional title management."
Article reference: Paddocks Press: Volume 5, Issue 7, Page 3