By the Newsletter Team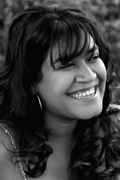 Carmel David is currently completing the Sectional Title Scheme Management course and will be attending the Johannesburg workshop this week. She took a moment out of preparing to share a bit about herself.
Carmel lives in Fourways, Johannesburg, and has been working as a portfolio manager at BCMS for just over a year. She came to the job after a four-year stint as a nursery school teacher, when she felt like she needed to do something completely new and change her career. Before she applied, she didn't even know what a portfolio manager was – a friend referred her for the job, and Carmel was pretty pessimistic about her chances of getting it. But she did: "Since then it's been great and quite an adventure."
Carmel thoroughly enjoys her work. "There's a lot of flexibility and freedom in my job. I'm given opportunities to prove myself with my work and the opportunity to study through BCMS, which I believe is drastically contributing towards my success." She also has a great group of colleagues supporting her. "My work companions are efficient and professional. We work well together as a team, assisting each other when required, which is great."
Her experience of the Sectional Title Scheme Management course has been equally positive. Carmel say she has learned much more in the last six months than she ever expected. She felt supported every step of the way. "The website is very easy to use and the guidelines are simple my queries relating to certain course material and even other material was answered in no less than 24 hours. The course conveners and coordinator were always available to assist. The weekly progress emails and text messages ensured that I did not miss those deadlines for assignments submissions." She says that the course has given her extensive knowledge of the Sectional Titles Act, which means she can confidently advise clients on the laws and aspects that affect them.
In her free time, Carmel enjoys playing games on her Xbox, curling up with a good book and occasionally going to the movies. She also really loves being pampered with "girly treatments like manicures and pedicures".

Article reference: Paddocks Press: Volume 5, Issue 11, Page 3