Amendment of PMR 39(2) – A start to using digital delivery technology?
By Prof Graham Paddock
On 16 April 2010 the Department of Rural Development and Land Reform amended the Regulations made under the Sectional Titles Act, 1986. These amendments were published in the Government Gazette as Government Notice R.291. The Notice deals mainly with registration matters. But the last item amends prescribed management subrule 39(2) that deals with delivery of the annual financial estimate, financial statements and trustees' report to owners and bondholders in advance of the Annual General Meeting.
Prescribed management rule 39(1) obliges the trustees to have these documents delivered to each owner and bondholders who have advised the body corporate of their interest at least 14 days before the AGM.

Barbara Shingler, a director of NAMA, confirms that the Board's intention was to allow for email and hand delivery, both of which were precluded by the requirement for delivery by pre-paid post. NAMA had suggested that the documents should be capable of delivery to owners by sending them to the owner's service address as specified in subrule 3(2), by electronic mail at an address provided by the owner, or by hand.
The amendment made has had the following effect (with deletions bracketed in bold and insertions underlined):
(2)  Delivery [under the last preceding sub-rule] for purposes of subrule (1) shall be deemed to have been effected if the documents referred to are sent [by prepaid post addressed] to the owner [at his domicilium] referred to in rule 3 (2), and to any mortgagee as aforesaid at the address of such mortgagee as reflected in the records of the body corporate.
So these documents must still be sent to owners and bondholders 14 days before the annual general meeting, but there is no provision as to how the documents must be sent. The documents must still be sent to bondholders at their address as shown in the body corporate's records, but the the place for delivery to owners seems at first glance to be unspecified.
In the rule, as originally drafted, the phrase "at his domicilium referred to in rule 3(2)" indicated where notice to owners was to be sent. Removal of the phrase "at his domicilium" and retention of the phrase "referred to in rule 3(2)" is confusing, because subrule 3(2) does not refer to owners, but to the service address, the domicilium citandi et executandi of each owner. So what does the phrase "to the owner referred to in rule 3(2)" mean?
If the reference to rule 3(2) is to be interpreted as serving a purpose, perhaps the phrase will be held to mean "to the owner referred to at the address referred to in rule 3(2)".  PMR 3 provides a physical address for each owner (the section owned) by default, but it does allow this address to be changed to another in South Africa. So if it could be argued that an email address is "situate in the Republic", an owner could give the body corporate written notice that he or she nominates a particular email address as his or her domicilium citandi et executandi.
An alternative, but unlikely, interpretation of this phrase is that the phrase "referred to in rule 3(2)" has no meaning and has been left in the subrule by mistake.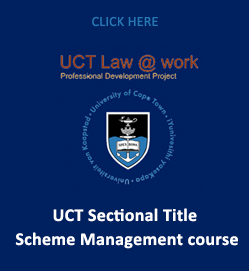 Because the reference to "prepaid post" has been removed and not replaced with any other mandatory method of transmission, it seems that these particular documents can now be sent to owners and bondholders by email, by hand, by courier or by any other method. If a bondholder's address as reflected in the body corporate's records is an email address, the trustees can send the documents to that bondholder as attachments to an email message and the documents will be deemed to be delivered. But because of the remaining reference to rule 3(2) in the amended rule 39(2), my view is that the trustees cannot send these documents to an owner by email unless that owner has selected an email address as his or her service address for the purpose of rule 3(2).
In practice the trustees should get owners and bondholders who want their notices delivered by email to give the body corporate written notice that they choose a South African email address as their service address for the purposes of PMR 3(2).
There is no doubt that the prescribed management rules need to cater for new technologies. Increasing numbers of sectional title owners and residents will be happy to have documents and messages sent to them by email or SMS and substantial cost savings can thus be achieved.
Notwithstanding the lack of clarity referred to above, the change to rule 39(2) is a step in the right direction. But before we can say, to borrow a phrase from another NAMA director, Greer Moore-Barnes, that the prescribed rules have been"brought in line with the 21st century" a more specific provision for email and other digital transmission technologies will have to be made and applied to a wider range of notices, messages and deliveries. And at the same time, it is suggested, provision should be made for electronic decision-making in appropriate circumstances.
Prof Graham Paddock is an authority on sectional title law and practice. He is the lead consultant to the National Department of Land Affairs and the National Department of Human Settlements (formerly Housing). Click here for more information on Prof Paddock.
Article reference: Paddocks Press: Volume 5, Issue 5, Page 1
This article is published under the Creative Commons Attribution license.