Sectional title insurance – The role of the trustees
By Mike Addison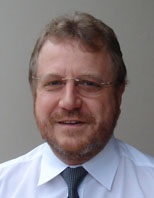 Insurance is an important area and trustees should take extra care in dealing with this.
Trustees should be aware of the four statutory functions of a body corporate in respect of the insurance:

To insure the building or buildings and keep it or them insured to the replacement value thereof against fire and such other risks as may be prescribed;
To insure against such other risks as the owners may by special resolution determine;
To apply any insurance money received by it in respect of damage to the building or buildings, in rebuilding and reinstating the building or buildings in so far as this may be effected;
To pay the premiums on any policy of insurance effected by it.
Prescribed management rules (PMRs), and particularly PMR 29, set out in more detail how insurance should be controlled, managed and administered.
For simplicity's sake, lets break PMR 29 into its four sub-rules and what they deal with:
29.1
The insurance of the buildings themselves
Loss of rent or loss of occupation
Any other risks
The schedule of replacement values
29.2
Liability cover
Fidelity cover
29.3
Other risks
29.4
Excesses
It is my experience that this is an area that is often overlooked, with everyone assuming that "it's taken care of". The buck always stops with the trustees so let's take a closer look at what you as the new trustee can and should do straight away. Let's put this in a form of a list for ease of reference:
1) Find out when the buildings were last valued or how the present sums insured were determined.
2) Obtain a full copy of your present insurance policy and schedule of replacement values
3) Do a rough "back of the cigarette box" estimation as follows:
Take the total square metres of the sections (from the sectional plan / PQ schedule) and multiply it by an average building rate per square metre.
Some rough ideas of what one might expect a townhouse simplex or duplex building to cost per square metre (excluding VAT) in 2010: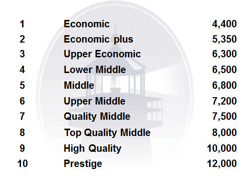 So, set out your rough check as follows:
| | | | |
| --- | --- | --- | --- |
| Property description | Sqm | Rate per sqm | Amount |
| Residential sections | 1,000 | 7,500 | 7,500,000 |
| Garage sections | 200 | 3,000 | 600,000 |
| Subtotal | | | 8,100,000 |
| Add 10% to 15% or so for common area | | | 594,000 |
| Subtotal | | | 8,910,000 |
| Add 12% for professional fees | | | 1,069,200 |
| Add 14% VAT | | | 1,397,088 |
| Add 5% for removal of debris | | | 568,814 |
| Roughly estimated replacement cost | | | R 11,945,102 |
Use this format and then compare your result to your existing insurance sum.
4) If you seem to be underinsured, increase your cover up to at least your estimated amount and also set about arranging for a professional valuer to value your buildings – this should be done every two or three years.
5) Check your policy document – does the cover described match that set out in prescribed management rules or your particular body corporate rules?
Check the following:
a) Premiums are paid up to date.
b) The risk address stated matches the street address of the buildings.
c) The policy is preferably a body corporate policy, such as one issued by an underwriting manager specialising in sectional title.
d) Does the schedule of replacement costs as agreed to at your recent annual general meeting match that reflected in the policy?
e) There is sufficient public liability cover (minimum R10,000,000 but preferably more), and preferably trustees indemnity extension.
f) There is preferably accidental damage cover and all risk cover for items that are at risk of theft, such as air-conditioning units, aerials, cameras, etc.
g) Do the excesses seem reasonable?
h) Obtain a claims history and check it – look for trend and problem areas.
6) Check who your insurance advisor or broker is and ask for a copy of the last written advice and comparative quotations.
7) Check that you or your managing agent has a copy of your broker's FAIS licence on file.
8) Check whether your insurance advisor has a good understanding of and experienced in sectional title matters.
9) Check that the insurance advisor has professional indemnity cover.
Since the introduction of sub-rule 29.4 nearly two years ago, trustees now also need to consider under which circumstances excesses should be paid by the body corporate (specified damage) and follow through with a special resolution in accordance with that body corporate's needs.
Another insurance aspect that should be considered is fidelity cover. Prescribed management rules suggest that the amount of cover, if any, should be determined by the owners in a general meeting. This is often overlooked and should even be considered where the managing agent holds a Fidelity Fund Certificate and funds are being managed through the managing agent's trust account.

Trustees need to make sure that they are receiving appropriate insurance advice in this regard and re-visit how banking and signing power arrangements are covered. Fidelity cover can be structured accordingly. There are many different ideas floating around about which method is most appropriate – for example, whether the body corporate should manage its own bank account or whether funds should be collected in the managing agent's trust account.
Trustees should also check that all professionals they deal with have appropriate professional indemnity cover. This will include your insurance broker, property valuer, auditor, attorney and your managing agent.
Trustees should also ensure that any contractor who attends to works on common property has appropriate contractors' all-risk cover. Obtain confirmation of such before any works commences.
Remember that schedule mentioned above under point 5 – once you have had the buildings re-valued, see to it that a fresh schedule is prepared. Your managing agent should be able to assist you with this. Some specialist insurance advisors are geared to assist you here, but take care: it is not the insurance company's place to prepare such a schedule – it's between you and your managing agent to get this done properly and to keep it maintained and up to date.
It should NOT be a simple photocopy of the insurance company's schedule; rather, the insurance policy should be updated to reflect a mirror image of the body corporate's schedule of replacement values.
Trustees and owners can learn more about these and other important aspects by attending a workshop near you. See www.addsure.co.za and www.addsure.blogspot.com for more information.
Mike Addison is the director of Addsure, specialist sectional title insurance brokers and is a regular contributor to Paddocks Press.
Article reference: Volume 5, Issue 10, Page 2