By The Paddocks Club Team
Below is an example of a question on the discussion forum on Paddocks Club. We want to show what is available to our Community Members!
Owners Quorum
Member's question:
PMR 64 – an owner may not vote at any general meeting if he is in arrears. It does not mention a Special General Meeting, but does say an owner is entitled to vote if a special or unanimous resolution is being taken, these are normally done at SGM's or can they also be done at an AGM?
Is an owner in arrears part of the quorum for either an AGM or SGM?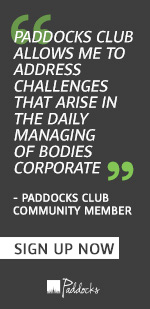 Graham's answer:
An owner in arrears cannot vote on any ordinary resolution, but can always vote on a special or unanimous resolution, whether this is in the context of a SGM, the AGM or by the round robin procedure.
A quorum is calculated only on the basis of those who can vote, so where some owners are in arrears a meeting may have a quorum for any special or unanimous resolution on the agenda, but not for any ordinary resolutions.
Reduction in levy
Member's question:
There is a loose standing house forming part of the body corporate. The owner pays his own electricity, maintains the house and his garden. Can he ask the trustees for a reduction in his monthly levy?
Graham's answer:
Unless there is a specific rule that obliges and allows owners to carry out maintenance of the common property that surrounds their sections, the body corporate should be doing this work and paying for it.
Is this the only free-standing house in the scheme, or are there others in the same position and who do their own maintenance and pay their own electricity?
Does this owner effectively contribute to the electricity and maintenance costs in regard to other sections, as well as paying in full for his own?
Member's reply:
The owner does not pay his own electricity; he installed his own electric fence. His is the only loose standing house, and the rest of the units were built around his house. He gets no services from the body corporate; they don't even put his bins out. There is no rule stating that owners must do their own maintenance, he prefers to do his own garden and maintenance.
Graham's answer:
In these circumstances the trustees would not be able to give this owner a discount, and he should be letting the body corporate do the maintenance on the common property elements of his dwelling.
It is possible to make special scheme rules under S32(4) of the Act to ring-fence the expenses relating to this dwelling, but the scheme would have to approve these rules by special resolution.

Article reference: Paddocks Press: Volume 8, Issue 11, Page 4
Professor Graham Paddock, Jennifer Paddock and Anton Kelly
are available to answer questions on the discussion forum for
Community Members of Paddocks Club
. Get all your questions answered by joining Paddocks Club at
www.PaddocksClub.co.za
.

This article is published under the Creative Commons Attribution license.