Paddocks welcomes Carryn Melissa Durham
By The Paddocks Press Team

Paddocks is excited to welcome a new member to the legal team, Carryn Melissa Durham. We sat down with Carryn recently to ask her a few questions.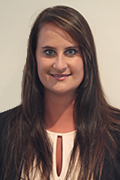 Carryn is a Capetonian born and bred. She studied B.A.(Law) LL.B LL.M at the University of Stellenbosch and is in the process of completing her LLD in Sectional Titles. For the last five years Carryn has been the legal research assistant for Professor CG van der Merwe.

Paddocks: Tell us a little about your hobbies, interests and what you get up to in your spare time.
Carryn: I love the outdoors and the beach in particular. My hobbies include, tennis; water-skiing; mountain biking; and golf. I'm also newly interested in photography.
Paddocks: Why did you decide to get into sectional title law?
Carryn: Professor van der Merwe approached me in my final year with the proposition of acting as his legal research assistant and doing my Masters in Comparative Apartment Ownership after graduation. I was then offered a bursary to continue with my LLD after completing my LLM. I owe Professor van der Merwe a huge debt of gratitude for seeing potential in me and for mentoring me. He inspired my interest in the field.
Paddocks: What made you decide to work at Paddocks?
Carryn: I met Graham and Jennifer Paddock at the NAMA Indaba last year September after which Jennifer contacted me with an offer to start as a Specialist Sectional Title Lawyer in January. I was over the moon as Paddocks has long been a source of knowledge for me in the field of sectional titles. Their impeccable reputation and my positive personal experience with their expertise made it an easy yes for me! I have been at Paddocks for a month now and have had the very best reception and am beyond happy with them.
Paddocks: Tell us a bit about what you will be doing at Paddocks.
Carryn: I will primarily be dealing with the Private Consulting department. I am the Manager of Private Consulting and deal with the administration of consulting clients as well as writing opinions myself. Furthermore I will be giving advice on the Paddocks Club Discussion Forum and answering Facebook question of the day. I will also be Course Instructor for Trustee Training and will be involved any other ad hoc speaking and training opportunities.
Paddocks: You are currently writing your thesis for your doctorate! What is your thesis on?
Carryn: Management in a Sectional Title Scheme with a focus on the Trustees and Managing Agent.
Paddocks: Quite exciting that you will be Dr Carryn Melissa Durham right!?
Carryn: Right ☺
Paddocks: What is your vision for your role at Paddocks over the few years.
Carryn: I have a passion for Sectional Titles; for training Managing Agents; for educating Sectional Title role players and for generally making the industry more professional. Paddocks provides the best platform for all of these goals. I look forward to assisting Paddocks in any way to achieve the best possible delivery of these services.
Article reference: Paddocks Press: Volume 9, Issue 1, Page 6