Paddocks' family ties | About Rob and Sam
By the Newsletter Team
Regular Paddocks Press readers are probably aware that Paddocks is a family business. Paddocks, which was started by Prof Graham Paddock and his wife Mandy in 2005, is also run by their sons, Sam and Rob Paddock. The growth and success of Paddocks led to the establishment of GetSmarter, Paddocks' sister training organisation. Sam is the managing director for Paddocks and GetSmarter, while Rob is the operations director. Here's the lowdown on how they got involved in the family business.

A few years ago, Sam, who is now 28, was cycling down a quiet lane in Ireland when he got a call from his father. Graham asked if Sam could help him set up an online platform for a new teaching  m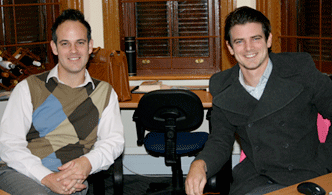 odel he'd come up with (this was the first presentation of Paddocks' Sectional Title Scheme Management course in 2005). Sam installed the right program, and found that he was bursting with ideas about the IT and marketing aspects of the course. His expertise, together with Graham's reputation, brought in 180 students for the very first Paddocks course.
Some time later, Sam called Rob, now 26, to come help with a new venture that involved property development. Rob was in Australia, working on construction projects after several years of travel. He'd had some success with a corporate drumming business in London, and his business experience proved invaluable. Rob was ready to settle into some substantial work and threw himself into the growing business.
When they started working, they had no idea where the journey would take them, but they were absolutely certain it would be an interesting ride. Working together as brothers – not to mention also working with their parents and younger sister, Jen – had its fair share of challenges. "Not letting personal agendas interfere is important," Sam says. "You have to ask yourself, what do we want for the business? You avoid personal obstacles by focusing on business goals."

And the biggest advantage of working together? "Trust," says Rob. "It's a massive benefit. It creates a positive working culture and that affects the staff." Another benefit is learning from each other: Rob has acquired some of Sam's skill with and love for technology, while Sam is learning to temper his spur-of-the-moment decisions by evaluating them with Rob, who is more level headed. Sam says, "Two heads are better than one. We feed off each other's energy."
Although the brothers have different lifestyles – Rob likes to be up early on weekends to go surfing, enjoys camping and loves spending time with his friends and girlfriend, while Sam prefers a good glass of wine while growing his network and socialising – they are remarkably close. Rob explains: "We spur each other on; we're quite similar in energy and drive. We're committed to the partnership and to working together." They even sit next to each other in the office, so they can easily discuss important matters.

As for their roles in the business, Sam is quick to insist that, "We're working towards co-managing directorship so that we can support the staff." They don't supplement each other by splitting the task – they both do the full job, which results in double the outcomes. While Sam focuses more on the IT and marketing aspects, Rob tends to manage the administrative and HR aspects of the business. But they both work on the  organisation's strategy and on developing new courses and entrepreneurial ventures.
As for the future, the brothers only know that they intend to keep working together. "We always wanted to do big things, to be substantial in some way," Rob says. Sam has some strong views about the future of education and believes that universities will be completely transformed in the next few years. "It's an awesome place to be," Sam says. "Helping people, creating value for students and employees – it's very satisfying."
GetSmarter is presenting 4 new courses in the second half of 2010:
Click here
for more information on the all courses presented by
GetSmarter
.
Click here
for more information on the courses presented by
Paddocks
.
Article reference: Volume 5, Issue 6, Page 2