Paddocks Club – The growing community
By Kate Blake
Paddocks Club has been in operation since January 2011 and we are so proud of this initiative. The Club, which is headed by Prof Graham Paddock, was set up to help members get answers to your questions about sectional title, home owners' associations and other types of community schemes. We currently have over 270 Community Members; everyday there is something new, it is a real joy to watch the Club, and its members, grow.

A few communication statistics from the Club
1596 – Discussion Forum questions asked
5301 – Number of replies to the questions
2660 – Number of posts Graham has made
86 – Video tutorials available for members to learn from
166 – Newsletters (Facilitator newsletter and Coach's newsletter) sent to members

Other facilities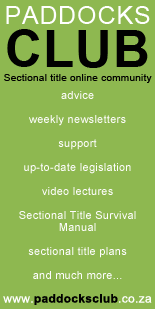 The Club includes much more than just the discussion forum, video tutorials and weekly newsletters. Members have access to the Navigator – an interactive subject index tool, where you can quickly find all the references to a word or phrase in the Sectional Titles Act 95 of 1986, the prescribed management and conduct rules and the Sectional Title Survival Manual (electronic version). We also have a library of growing resources for all types of community schemes, including the STSM and CSOS Acts. Free sectional title plans are available on the Paddocks Club homepage, and these are available to the general public to download.
Sense of community
As the Club has grown and members become more confident on the platform, it has been wonderful to see the sense of community grow. Members are increasingly helping each other on the forums. So now, not only do members get access to Paddock's expert support and guidance on the problems, but they can also learn from others who have had to deal with similar situations and get ideas from them on how to handle certain issues.
Future plans
As soon as the STSM and CSOS Acts come into operation, and the rules and regulations have been confirmed, we will send out an alert to our members. We will ensure that we have all of the information ready for members, with the Club being an essential platform to be involved in, as we discuss the new legislation in detail and ensure our members have the latest information and understand how the changes will affect them and their schemes.
Inflation
Paddocks Club membership has remained the same price from the day we opened the Club, the inevitable day has arrived, after 21 months, where we have to reluctantly increase the price of the membership fee. However, we will only raise the fee commencing 1 November 2012. This means that when you join Paddocks Club before 1 November 2012 you will be able to do so at the current fee. We do encourage the public to sign up for a full year to get the maximum benefit before we raise our fee.
Membership fee
Community Membership:
• Current: R250 per month per member. Or R2,700 for once-off year membership payment.
• 1 November 2012 onwards: R299 per month per member. Or R3,289 for once-off year membership payment.
Navigator Membership:
• Current: R50 per month per member. Or R540 for once-off year membership payment.
• 1 November 2012 onwards: R70 per month per member. Or R770 for once-off year membership payment.
We have received some wonderful feedback from our members:
"Paddocks Club is the most amazing tool! There should be no excuses for Trustees not getting their "Act " together!" – Stephne Ashworth, Trustee
"The knowledge provided by Paddocks Club is one of the best tools for the sectional title community." – Ilario Orlandi, Portfolio Manager
Article reference:
Paddocks Press: Volume 7, Issue 9, Page 3
Kate Blake is the dedicated Paddocks Club facilitator. To become a member and join the Paddocks Community please visit www.paddocksclub.co.za or contact Emma on 021 447 4130 to find out how the Club can benefit you.