By the newsletter team
Sectional title scheme executives often need support in carrying out their day-to-day scheme management duties. Members of community schemes regularly need assistance in establishing and enforcing their rights. Those who contract with and advise community schemes also need to understand this complex environment.
Paddocks Club, which was launched in January, offers its members an opportunity to be part of an exclusive mutually supportive learning community. It provides resources as well as expert support and ongoing coaching, ensuring that members are kept up to date and can carry out their functions and offer their services competitively. Paddocks Club is for anyone involved in the sectional title and community scheme world.

Professor Graham Paddock, who runs the new initiative, says, "Never before has it been possible to obtain access to all the relevant information and to be kept constantly updated and supported. Paddocks Club is a giant leap forward in the delivery of this type of legal support service."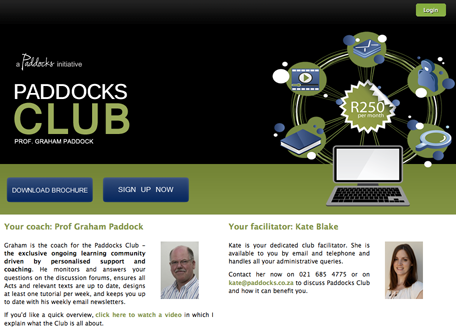 All these tools have been bundled into one supported online resource that is accessible from any internet-enabled computer or phone. The resources are extensively cross-referenced, allowing the user to easily find all the information relevant to a particular subject in all the relevant documents.
Other features of Paddocks Club include the discussion forum, where members can become actively involved in discussing issues, asking questions and receiving support from Professor Paddock and other members, an exclusive weekly newsletter that covers industry news and updates to relevant legislation, a bank of video tutorials and much more.
After almost a month of running the Club, we have realised that there is great value in the Navigator as a product on its own – where people can access searchable legislation and sectional title resources. With this in mind, we now offer two types of memberships: the Navigator and Community Memberships.
The Navigator Membership:
Access to the Navigator – an interactive subject index and a very effective learning tool, where you can quickly find all the references to a word or phrase in the following resources:

The Sectional Titles Act 95 of 1986
Prescribed management and conduct rules
Sectional Title Survival Manual (electronic version)

Monthly membership fee of R50 per member
The Community Membership:
All points mentioned in the Navigator Membership
A discussion forum where members can ask questions and receive support from the coach and their peers in their daily scheme management activities
A searchable library of up-to-date Acts related to all types of community schemes
A bank of video tutorials, with a new tutorial made available on a weekly basis
A library of related community scheme documentation available for download
Graham's weekly email newsletter, which includes the video of the week, highlights noteworthy discussions taking place on the discussion forums, includes industry news and details any changes that have been made to relevant legislation.
Monthly membership fee of R250 per member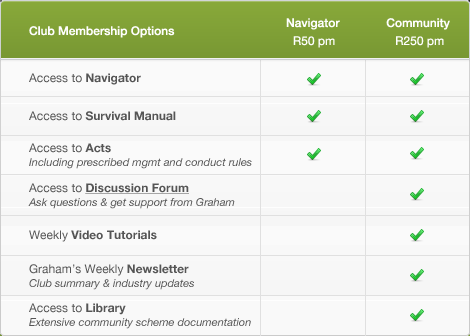 Diagram to show the differences between the membership options.
For more information on the Club, please visit www.PaddocksClub.co.za or contact Kate on 021 447 4130 or by email on kate@paddocks.co.za.
We hope to welcome you to the Club!
Article reference: Paddocks Press: Volume 6, Issue 2, Page 1