Online Private Consulting now available
By the Newsletter team
Paddocks Club is an exclusive online learning community for people involved in sectional title and community schemes. Building on its growth in 2011, the Club has launched a private one-on-one legal consulting service this month. Prof Graham Paddock, a leading authority on community scheme law in South Africa, heads Paddocks Club and is now offering interested parties the opportunity to get affordable, confidential and tailored legal advice online.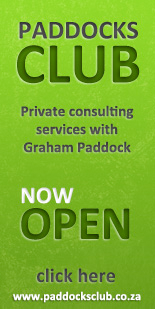 The new online consulting service is
available to everyone
. Clients simply access the service through the Paddocks Club website and
submit a no-obligations request
by filling out a basic online form. Prof Paddock then compiles a quote for the task, and works together with the client to achieve the desired outcome. All interactions take place on the easy-to-use website, and clients can submit supporting documents and additional information as attachments. The consultations are completely confidential, secure, personalised and competitively priced.
Private consultations with Prof Paddock can take many forms. For example, clients can request written legal advice on a specific matter, preparation or review of documents, interpretations of existing laws and regulations, practical legal opinions on disputes, or even private discussions around a community scheme matter.
Paddocks Club is an online learning community where members can interact with each other and Prof Paddock to get informal insight into sectional title, home owners' association and other community scheme matters. The new private consultation service distinguishes itself because it provides individuals with confidential, formal legal advice. Prof Paddock is offering one free month of Paddocks Club membership to anyone who requests and pays for a private consultation in January.
Article reference: Paddocks Press: Volume 7, Issue 1, Page 2