By the Newsletter Team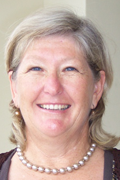 Jennifer Gerhard, a portfolio manager for Holiday Plett, a property management company, has over 20 years of experience in the property industry – yet she still learned many new things from the Paddocks courses she has taken. Here, Jennifer shares a bit about her work and studying experience.
Jennifer started Holiday Plett in 2003 as a joint venture with her colleague Vivienne, who she respects greatly and has built an excellent reputation with; both ladies have many years' experience in the field and are well known. The staff at her office are frank and open, meaning that the office vibe is lively and congenial and that everyone pulls together in busy times to help out.
Jennifer has taken two Paddocks courses: the Sectional Title Scheme Management course in 2006, and the Home Owners' Association Management course more recently last year.
Her experience on the Home Owners' Association Management course has been very positive. "I wanted to be more knowledgeable about the job I do and, in so doing, acquire a reputation of being good at what I do. In that way, my portfolio will grow and I will provide an efficient and professional level of service. I have been doing this work for many years and am amazed at how much I did not know and how much I have absorbed."
"I liked studying online, being able to work at my own pace at home and then submitting the assignments from work. The course was very well set out and well presented; everything was logically sequenced. The staff are quick to respond and extremely helpful and accommodating."
She says she is already implementing the things she has learned on the courses every day: "I am involved in a lot of litigation on one estate and this is helping greatly".
Since she is extremely devoted to educating herself and raising her skills, Jennifer is also studying a BComm through Unisa. She spends the rest of her free time reading and walking her Labrador and two Dachshunds on her estate.
Article reference: Paddocks Press: Volume 6, Issue 1, Page 4