By the Newsletter Team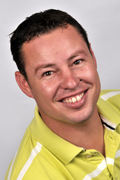 Gerrie Scheepers is the CEO and executive director of Vision Properties, a property management, letting and sales company. Gerrie started working in the property industry in 2003 as a portfolio manager, and joined Vision Properties in 2009 to focus on managing residential complexes. The company employs 24 staff members and has offices all around the country (and even one in Namibia). Vision Properties focuses on using the latest technology to make managing property more effective and streamlined.

Gerrie takes a very hands-on approach to his daily job. "I believe good internal communication will improve your service delivery towards your customers. I start each day with an early morning meeting with staff members, to plan our day and get feedback on the previous day." He spends time with each department in the company in report meetings, "Where the staff members can raise their concerns and also get the opportunity to offer new ideas and analyse our opportunities and threads."
He collects this data and uses it in strategic planning for the company, keeping abreast of the changing needs of his customers. He also spends time with customers by attending trustee meetings. In the end, he analyses all of this management information and creates benchmarks and targets for the company and individual employees, ensuring the entire company has one clear goal.