By the Newsletter Team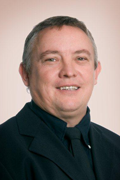 From pro golfer to sectional title manager: Craig Pape has recently undergone an interesting career change. Here, he shares a bit about this dramatic shift, his favourite Paddocks courses and his love of boating.
After 14 years as a golf professional, Craig wanted to move away from the 7-day working week and into "a real job". Since he was interested in property, Craig started working for
Campbell Baxter Properties
in 2003 and bought the company in 2004. He is now the director.
Craig enjoys working with his dynamic team
. "We strive to keep our clients stress free by using our expertise and enthusiasm in everything that we do. Our rental agents are honest, hard working and the forefront of the company. The property business is never dull." He says the most important thing he has learned from the property industry is that customer service really counts and that honesty is vital.Craig says that the Paddocks courses have highlighted how many unqualified people are advising bodies corporate and
home owners' associations
, since there is so much to learn about sectional title. His favourite course so far has been the
Advanced Sectional Title Scheme Management course
since he could observe "the level of knowledge in the sectional titles act that we should all strive for". Craig is also one of the few students who has done a course with Paddocks' sister company, GetSmarter. He says that the
UCT Basics of Financial Management course
gave him "a much more in depth understanding of the financial and operational side of the business".Craig lives in Ramsgate, Gauteng, with his wife and two children. His favourite hobby is deep-sea fishing, which he does as often as he can. He has also recently passed his category C skipper's license. Craig says he couldn't live without his HD-PVR (or his wife), and lives according to the motto that, "to be effective, you have to enjoy the journey".

Article reference: Paddocks Press: Volume 5, Issue 10, Page 3