By the Newsletter Team

Name:
Bridget Bakker
Where do you live:
I live in Jukskei Park, Randburg
Occupation:
I am the Principal of an Estate Agency
Starting out
When I left school (which wasn't so long ago) I thought it would be great to become a teacher. I studied for 6 months and then went on my first teaching prac. It was simply awful! Twenty-five grubby faces, all looking for attention at the same time! Needless to say, I was cured of that dream. I frantically searched for any work that would involve adults.
Career times
I have been employed in the property industry since 1984. I joined Rand Merchant Bank in their property division – at that time there were probably 15 employees in total! My superior left RMB to form his own company, Leisure Options, and I joined him in the company. At the time, the company was instrumental in the development, sales and administration of Mabula Time Share and Peninsula Time Share. It was a fantastic job – we spent every weekend at Mabula, selling time-share, going on game drives, and chasing elephants out of the lodge.

I have been working at Peter Mens Homes since 1995. I started as a bookkeeper and progressed into sales. We purchased the business in 1997. I love the challenge – no two days are the same; every day has something to test your wits and we are busy, busy busy!
Family ties
My daughter has joined us this year, working while studying through Unisa. That's special, to be able to work with your children (Prof Paddock will grin or groan!).
My son and I are passionate about antiques. We spend a lot of time window shopping (due to the recession). My son collects gramophones, so we prowl the shops looking for parts or bargains! My favourite find is a World War 1 compass, preserved in its leather holder, all hand stitched, with the owner's initials stamped on the leather and dated 1911 (99 years old!). I love reading and have a current pile of about 8 books next to the bed!
Karate champion

I have a 2nd Dan in JKA Karate – I did karate for 14 years. In those days, due to apartheid, we weren't allowed to compete internationally so we had the SA Games (as opposed to the Olympic ones) in which I was a Gold Medalist!
Paddocks love
I must say, upfront, that I have not been paid to say this! Paddocks courses are so pertinent to my profession. Actually, they are tailor made. Paddocks courses are so thorough, so informative, so well researched and so well presented. They are user friendly. Each course has been systematically designed with extensive course material, practice quizzes and games to reinforce the course material, extra reading, discussion forums where questions can be answered. Everything happens on their website, downloading course material and sending assignments at the click of a button. It is honestly a pleasure to study through Paddocks.
Paddocks courses that Bridget has completed
1. UCT (Law@Work) STSM
2. UCT Specialist Realtor
3. UCT (Law@work) Advanced STSM
4. Law of Sectional Title Meetings
5. Sectional Title Bookkeeping
6. HOA Management
Distance learning
I have studied through another correspondence university for a BA in Offender Profiling (thought I should get up to speed on my clients) and while studying, I felt I was on my own. Studying through Paddocks, you have contact. Your course coordinator is a phone call away. The service is excellent. The presentation of the workshops is so professional and so well coordinated and the stress ball is a very nice, but necessary, touch. Everything just works – even the very out-of-tune Christmas Carol!
Getting Advanced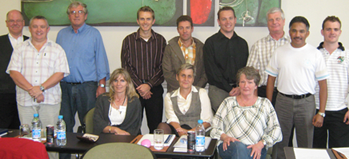 My most favourite of all the Paddocks courses was the UCT Advanced Sectional Title Scheme Management course. Three days of intensive interaction with Prof Paddock and Anton Kelly was phenomenal, not to mention exhausting! It was hugely challenging and one had to be alert at all times, because questions were pounced on you when you least expected it and you had to call on all your knowledge to partake. To be able to share in such a wealth of knowledge from Prof Paddock was an honour. It is truly an exceptional course which should be a pre-requisite for all managing agents.
Interesting times
Having done a few courses, I think one of the most intriguing aspects of the courses was understanding the sheer brilliance of the Sectional Title Act and the application thereof. My understanding is that all reference to development, purchase and management of a scheme is documented in the Act or the rules. If in doubt, look it up in the Act.
I found "Law of meetings" very interesting. There are some of us who have worked with trustees or directors who are a law unto themselves and it is quite enabling to guide trustees with confidence, having completed this course,
I now have a modicum of understanding of exclusive use rights, in terms of s27 and 27a and thorough knowledge of the differences between special and unanimous resolutions. I found extension of schemes, fractionalising schemes and layered schemes intriguing. The earliest HOA was set up in the 1600s in Leicester Square. SA modeled its sectional titles legislation on New South Wales strata title.
There is just too much to mention – what you have to bear in mind with these courses is that the curriculum for each course is vast and needs to be kept as a reference, because it is impossible to retain all that information (especially at my age!).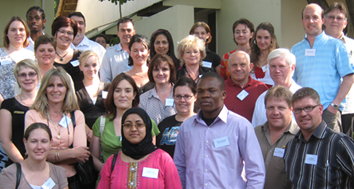 Bridget on the
Sectional Title Bookkeeping course
2009 presentation in Johannesburg
My ideal Paddocks course would be…
BA specialising in Property. You could incorporate law of contract, company law, property law, management, marketing, accounting, conveyancing, HR and all the Paddocks courses. I think the time has come for Paddocks to present a degree.
Article reference: Volume 5, Issue 4, Page 5
This article is published under the Creative Commons Attribution license.