By the Newsletter Team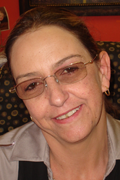 Alison Hagemann is a long-time Paddocks student – she studied the
University of Cape Town (Law@Work) Sectional Title Scheme Management course
in 2007, the
Paddocks Sectional Title Bookkeeping course
in 2009 and is currently doing the
Paddocks Home Owners' Association Management course.
She took a bit of time out to tell us about her work and view on life.
Alison, who lives in Hillcrest, KwaZulu-Natal, works as a property manager for
Maxprop Holding
. She loves working in property. "I started my career in property as a secretary to a property manager and progressed from there. The most important thing I have learned in the property management industry is that there is so much to learn – and I enjoy the fact that Maxprop ensure that all their property managers stay abreast of the changes in the industry and encourage their staff to constantly improve their knowledge."She finds it challenging an exciting to set up new sectional title and home owners' association schemes, especially in putting the key rules in place and developing realistic expenditure estimates. She says that the Paddocks courses have been an great help in this and that she is enjoying her current course. "It is a pleasure to study through Paddocks – the constant support is amazing." Her favourite course so far has been the
University of Cape Town (Law@Work) Sectional Title Scheme Management course
.
Family and friends are very important to Alison and she cherishes the time she can spend with them. She also enjoys reading and spending time at the beach whenever she can. Alison's motto is that life is not a dress rehearsal – "there is no place for 'could've … would've … should've'!" On a personal front, Alison has recently been reuinited with the man of her dreams after 30 years, and they are engaged and planning to marry next year.

Article reference: Paddocks Press: Volume 5, Issue 9, Page 4