Farewell to Jennifer Paddock
By the Newsletter Team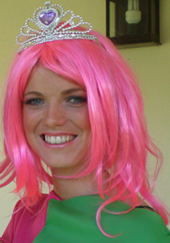 Born-and-bred Capetonian Jennifer Paddock has gone from strength to strength in all aspects of her life in the past year.
After several years of studying and doing her articles, she has just been admitted as a fully fledged attorney. She's also had a big change in her personal life – she got married last year. On top of all that, she and her husband are leaving in May to work abroad in Australia for some time. How does she keep up with everything?
Jen is a consummate planner and problem solver with a great eye for detail
– the perfect traits for a lawyer and a teacher (she's the convener for the Law of Meetings course). She also loves to keep herself fit: she's a determined runner who took part in the Two Oceans half-marathon. On exercising, she says, "
I enjoy the stress release of a good cardio workout, the endorphin high you feel afterwards, as well as what exercise does for my body image.
"
She's not all business, though. Jen has a creative streak and currently enjoys doing make-up and face painting, though her creative hobbies are liable to change regularly. Jen explains that she's "always trying to learn new things, skills or disciplines". She also loves to read, and recommends Shantarum by Gregory David Roberts as one of her favourites.
Jen really enjoys her job as course convener at Paddocks – which is no surprise, since it's the family business. Jen says her family is very close. "We're very lucky. My folks have always had a great stable relationship and they are very supportive and understanding. Sam, Rob and I are close in age and we all get along very well and spend time together socially." There are also other perks at work: "The people, the awesome management style, the monthly massages, the food, the open attitude, the pink days, the green days, the high fiving." She appreciates how much the online environment has changed and enabled her family to run an online distance-learning company, and she's "super stoked" to be involved in it.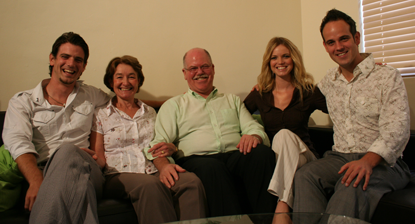 This year, however, Jen is taking a break from family and work life and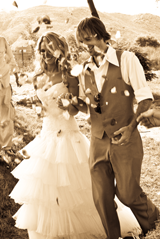 is going on a whirlwind trip around Australia with her husband. Their beautiful wedding celebration last year was featured in both the Wedding Collection magazine and in You and Your Wedding UK. Jen has kindly treated us to one of her photos! And as for Australia, she doesn't have a definite plan yet. "We are starting off in north Queensland, working on an island resort near the Great Barrier Reef. After we've saved up we plan to buy a campervan and then travel and work our way around the rest of the country." She also isn't certain exactly what the future will hold once she's back in South Africa, though she adds that "I may well be back at Paddocks in the future." Also, Paddocks Press readers needn't worry – Jen will still be writing her excellent articles while she's away.
Article reference: Volume 5, Issue 4, Page 3

This article is published under the Creative Commons Attribution license.

Back to Paddocks Press – April 2010 Edition