Candice Jooste – Our coordinating queen
By the Newsletter Team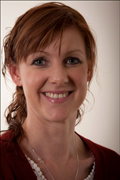 Candice Jooste has been looking after Paddocks students since 2008. She was initially part of the marketing team, and became
the first official Course Coordinator.
Since then, Candice has grown the course coordination department and she now manages the Course Coordination team. She shares a bit about her work and hobbies here.
Candice loves helping Paddocks students
. "We are the people that get to help relieve frustration, offer confirmation and relief and in general build relationships with the people who have already experienced our learning community, and the many, many more that I am sure will come in the future." She lives by the motto that the more you do, the more you find you can do. At Paddocks, Candice says, she is always being challenged by the fast pace and constant change: "The result is that you lose your natural human fear of change and instead embrace it."
Candice is inspired by her cousin, Kirsten, who beat leukemia at the age of 14. "She taught me the power of positive thinking. With an optimistic view to life, you can take on anything." Candice always gives her all to her job. And her fellow Course Coordinators appreciate her hard work: "Candice is someone that I admire greatly and look up to a lot. She always gives 200% to her work and is so genuinely caring, especially when it comes to her Coordinator girls." Her team describes her as "energetic, sassy, motivated, a perfectionist, full of life and passionately driven".
When she isn't organising student matters and managing her team, Candice loves sharing a glass of good wine with her family and friends, who are very important to her. Candice didn't always have ambitions to be a course coordination manager – as a little girl, she wanted to be a famous ballerina, and if she could have any super power, she'd choose flying.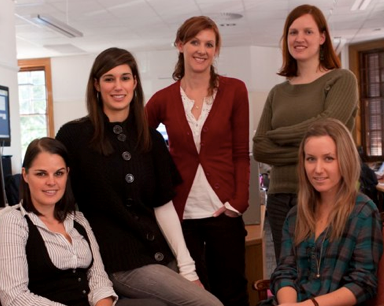 Course coordination team: Sarah, Arlene, Candice, Andrea and Tamara
Article reference: Paddocks Press: Volume 5, Issue 9, Page 8