Digital Learning Day: UCT embraces the property management industry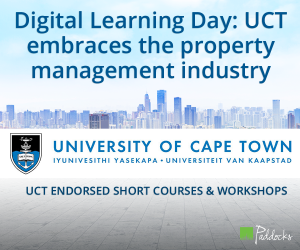 22 February is Digital Learning Day, a day that celebrates great teaching and innovative learning opportunities powered by technology.
The advancement in technology has led to increased opportunities for learning, but has also led to an increased demand on professionals to up-skill themselves in order to remain relevant.
On a practical level, the Sectional Titles Schemes Management Act came into effect 7 October 2016 and there are many uncertainties and misinformation around certain aspects of community scheme law.
UCT has partnered with Paddocks on a series of online short courses and workshops that put property management into layman's terms for property professionals as well as trustees and owners.
Online and part-time short courses for busy working professionals
The rate at which technology is advancing is disrupting almost every industry in the country, including education. This is good news for busy professionals, but there are still misconceptions about online learning.
"A lot of people don't understand how studying online works," says Course Coordinator at Paddocks, Janine De Koker. "It's a manageable commitment of 7 – 10 hours a week of which you can break up into 1 – 2 hours a day or work it all in over 2 days."
All short courses are designed specifically for working professionals to complete part-time. Students receive login details to an online learning platform that provides for an engaging learning environment. Videos, downloadable online notes, quizzes and discussion forums stimulate conversation around that week's module. Students only receive one module a week to complete and are taught and guided by a team of qualified attorneys and teachers.
Gain relevant skills that you can apply immediately
Vagn Nielson, CEO of Helderberg Village Masters Home Owners' Association said "I registered for and completed the 8-week Dispute Resolution in Community Schemes short course. Little was I to know that what I learnt on the short course was going to be put into practice a few weeks later…
Before the course was completed, I received notice from CSOS requesting my attendance at an adjudication hearing, following an unsuccessful conciliation process between a Resident and my HOA. Taking into account what I had learnt on the course, we prepared for the hearing and were successful in receiving a favourable order. Thanks to the course, the Adjudicator commented on how well the HOA file had been prepared! I would recommend that all community scheme managers do this course."
Apart from internet and a valid email address, there are no prerequisites to registering for a short course and successful students will obtain a certificate from the University of Cape Town. View the full portfolio.
In addition to online short courses, Paddocks offers consulting, workshops, books and eBooks as well as exclusive membership to an online Club with over 200 property professionals. For more information, visit the advice and resources tabs on the website.
---
This article is published under the Creative Commons Attribution license.